Colomé is a family legacy: families have been tending this land for generations.
About Us
Bodega Colomé was founded with the vision of making the finest high altitude wines in the world. Today we continue the tradition of producing a limited quantity of high altitude wines, grown with sustainable practices in a pure microclimate. Acquired in 2001 by entrepreneurs and pioneers Donald and Ursula Hess with the aim of producing fine high-end wines in the high Calchaquí Valleys, it is currently run by the second generation, Larissa and Christoph Ehrbar.
Our mission is to create finely crafted, differentiated wines and experiences that are relevant, desirable and appreciated by our consumers. These unique experiences are passionately conceived, through sustainable practices and constant consideration of our planet.
History
In 1998 Donald Hess undertook an epic journey in search of the best wines of South America. He had been to Chile and then to the Mendoza region in Argentina, but to no avail he still had not found that special grape he was looking for. When he arrived to the Northern Argentinian province of Salta, Donald was inspired by the brilliant sunlight and excellent terroir that spurred on his vision to pioneer a new category called 'high altitude' wines.
In the high-altitude desert at 2600 meters, Donald came across 'El Arenal vineyard' and two years later expanded to include Colomé at 2300 meters, the oldest continually producing winery in Argentina (1831). Today we continue the tradition of producing rare, limited production wines, grown with sustainable practices in a pure microclimate. Colomé is home to some of the oldest continuously producing vines in the world.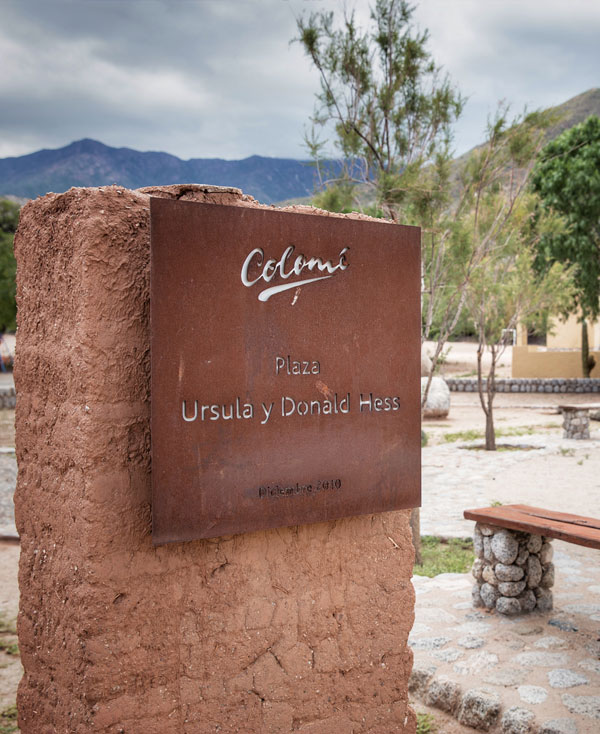 Social Responsibility
Our initiatives are more than philanthropic, we aim to generate both social and economic success.
We create a bond with our employees, the community, suppliers, visitors, and all people touched by the magic of Colomé. Donald and Urula Hess, our founders, have always been about working closely with
the local community.
They did not seek to impose their own culture or traditions, but to add to the livelihood of the area. We all continue in their footsteps.
Team
Colomé is a very large extended family. We may all come from different cultures, and our roles and areas of expertise are very different, but we share the same dream. We are on an adventure together. Many of us, only intended to spend a short time here, but this place has a pull, its beauty catches you.
We believe that the key to successful winemaking is teamwork, and we have assembled a team with unmatched experience and passion.